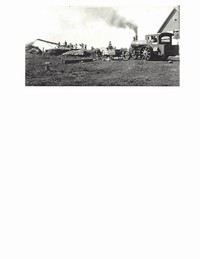 Courtesy of the Danish Heritage Museum
Peter Larsen Christiansen was the first Dane to settle in the area around Viborg, South Dakota. He homesteaded in 1864 near Swan Lake while the Dakota Territory was still in its infancy having been created in 1861 and its population was extremely sparse; especially in what is now Turner County. As a matter of fact, it can be said that Danish people were living in this region even before the organization of Turner County. The Dakota Territorial Government, located at Yankton, established Turner County on January 13, 1871. By this time several Danish families had already settled in the area south of Swan Lake.
"In 1872 Mads Rasmussen began operating a store on his homestead claim, which was located one half mile south of the present-day site of Viborg. After the establishment of a post office in conjunction with the store, this small business became known as Daneville. Soon other businesses, such as a creamery and a blacksmith shop, began to arise around Mads Rasmussen's store. Daneville quickly became a thriving little village. The success of this Danish hamlet, however would not be long-lived.
"A desire for many of these early settlers was the establishment of a railroad line to exist within their community. In 1893 the Sioux Falls, Yankton, and Southwestern Railroad, which later became the Great Northern Railroad, completed a rail line between the cities of Sioux Falls and Yankton. Thus, this new railroad went right through Turner County. Unfortunately, the railway missed the village of Daneville by one half mile. A group of individuals then decided to build a new town along the railroad tracks north of Daneville. On a recommendation of Ole Sorensen, who was one of the land owners on which the new village was founded, the town was name Viborg after an ancient city in Denmark.
"Following the establishment of Viborg, Daneville gradually ceased to exist. Andrew Jensen, who purchased Mads Rasmussen's store, quickly moved his place of business to Viborg. Eventually the blacksmith shop also moved to Viborg, and the creamery discontinued to operate. The once thriving hamlet of Daneville had become a distant memory."
"The village of Viborg was established in 1893 when the railroad came through. Will C. Larsen built the first store in Viborg in 1893. A storm came through town on July 4th and the store blew down. However, this did not discourage Will and he rebuilt the store. He also ran the post office. W.C. Moulton was depot agent, Mr. Feare was the grain buyer and F.M. Wheeler was manager of the lumber yard. C.J. Glood and Charlie Nelson started a hardware store, F.L. Larsen and Andrew Jensen operated a general store where the pioneers could purchase clothing (klaertoi) and food supplies. Fred Steffensen, over at the stockyards, bought livestock from the farmers. The hotel that was operated by Nelse Miller was located at the south end of Main Street. This building still stands in 1990. Just south of the hotel stood a horse livery barn operated by two brothers Knut and Pete Petersen. The farmers could keep their horses there in bad weather while they conducted their business in town. Pete Andersen had a caf? in the building on east Park Street which later was the Hans Jorgensen Photo Shop."
"The Village of Viborg was incorporated as a city August 25, 1903…"