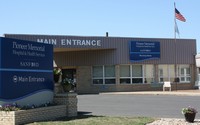 Viborg's Pioneer Memorial Hospital
Residents of Viborg are privileged to have a hospital in our own community. Below are details are the hospital and clinic.
Pioneer Memorial Hospital
•Critical access hospital
•24- hour emergency care
•Viborg Medical Clinic
•Outreach Specialty Physicians
•Laboratory, radiology and therapy/rehabilitation services
Long term care facilities including Skilled nursing facility with
•Memory care unit
•Assisted living center
•Senior congregate living apartments
Website: www.pioneermemorial.org
Phone Number: 605-326-5161
Address: 315 N. Washington, PO Box 368, Viborg, SD 57070
For ambulance services CALL 911
Viborg Medical Clinic
•Adult Medicine: Annual checkups, wellness consultations, comprehensive evaluations, preventative care, and diagnostic services.
•Women's Health: Annual health exams, pap smears, breast health services, and routine gynecological care. Obstetrics – prenatal and postpartum care in partnership with OB/GYN specialists.
•Minor Surgery: Laceration repair, foreign body removal, wart removal, biopsies (skin or superficial lesions), excision of ingrown toenails, fractures and sprain care.
•X-Rays/Laboratory Services: Referrals – if you need a specialist in any area, we can help make the necessary contacts for you.
•Disease Management: We can help you monitor conditions such as hypertension, thyroid disease, diabetes, cardiac conditions, etc.
Website: http://www.pioneermemorial.org/ourfacilities/ourclinics/viborgmedicalclinic/
Phone: 605-326-5201
Fax: 605-326-5196 OR 1-800-246-5201 (SD)
Address: 103 W. Pioneer, PO Box 337, Viborg, SD 57070-0337
Hours:
Monday: 8:30am to 8:00pm
Tuesday-Friday: 8:30am to 5:00pm
Saturday: 9:00 am to 12pm